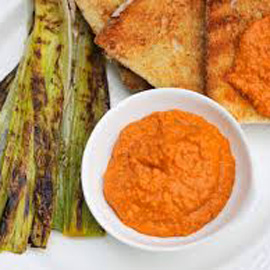 Romesco sauce ingredients
Serves 2 – 4
This sauce is best served with roasted vegetables or with grilled fish.
2 big and ripped tomatoes
6 garlic cloves
12 toasted almonds
2 Ñoras
1 tablespoon of sherry vinegar
1 teaspoon of sweet smoked paprika
Salt
Arbequina olive oil
Cooking Method
Preheat oven to 200°C. Line a baking pan with aluminium foil. Place garlic, bread and tomato on baking sheet and place in the oven. When the bread is toasted (about 10 min) remove it and continue roasting garlic until soft and tomato until tender, about 20 minutes more. Remove from oven, let cool slightly and remove skin from tomato and peel garlic..
Put the tomatoes and garlic pulp in the processor. Add the salt and start the processor, pouring in the Arbequina olive oil in a slow, steady stream, as if making mayonnaise. Add the vinegar, pulse to incorporate, and taste. Add salt to taste. Process the romesco until it comes together as a sauce but not so much as to lose its coarse, nutty texture. The sauce should be thick and creamy. If it seems too thick, add more olive oil. If it's too thin, add more bread, pulsing a few more times