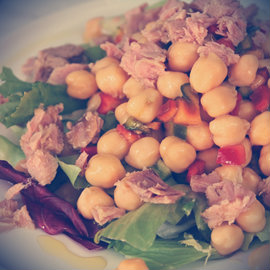 Tuna chickpeas and red pepper salad ingredients
With the arrival of spring, the temperature begins to rise and we need to prepare fresh recipes.
Serves 4
Ingredients:
3 Spring onions
Salt and pepper
Cooking Method
In a large bowl place chickpeas, sliced piquillo peppers, torn black olives, julienne sliced spring onions, Tuna and carefully stir until well combined. Add salt and pepper and carefully stir. In a small bowl mix three parts of olive oil and half of sherry vinegar, whisk until well mixed. Toss the dressing with the salad to combine.
Save £1.07 buying this pack: Pack tuna chickpeas and red pepper salad